Roads Made of Plastic Waste in India?
Yes! Meet the Professor Who Pioneered the Technique.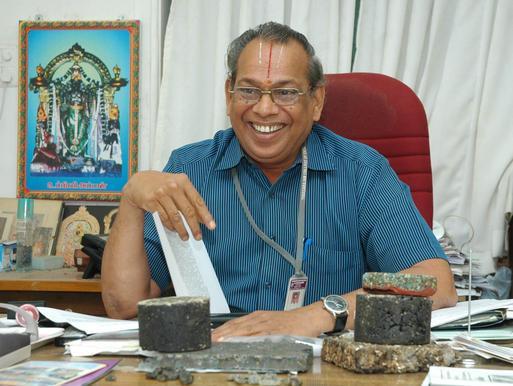 A Government order in November 2015 has made it mandatory for all road developers in the country to use waste plastic, along with bituminous mixes, for road construction. This is to help overcome the growing problem of plastic waste disposal in India. The technology for this was developed by the 'Plastic Man' of India, Prof Rajagopalan Vasudevan, Professor of Chemistry at Thiagarajar College of Engineering, Madurai.
By the turn of the century, a lot of noise was being made to reduce the use of plastic and control the waste it was generating. It was during this time when, one evening, Prof. Vasudevan saw a doctor on a TV program saying that plastic 'dissolved' in water bodies caused pollution.
"This set me thinking. Since plastic is a product of petroleum this theory of the doctor had to be false. There was a lot of serious talk about banning plastics all over the country and finding solutions to the waste plastic strewn all over. I decided to take up the challenge to experiment with waste plastics and see if I could find a solution," he says
Laboratory results of mixing waste plastic with heated bitumen and coating the mixture over stone proved positive. He implemented the use of plastic waste on a road constructed inside the premises of his college in 2002.
To date, this stretch of road is still going strong," he says.
In 2006, the Thiagarajar College of Engineering received the patent for this technology.
This road construction process is extremely eco-friendly, with no toxic gases being released.
Plastic waste helps increase the strength of the road, reducing road fatigue. These roads have better resistance towards rain water and cold weather. Since a large amount of plastic waste is required for a small stretch of road, the amount of waste plastic strewn around will definitely reduce.
Prof R Vasudevan's inclination to keep experimenting led to another innovation. He decided to try creating a stone block with plastic coating and, in 2012, 'plastone' took birth. A plastone block is made from a mixture of waste plastic and stone. It has been found to withstand more pressure and it resists water percolation. In the professor's department of chemistry they have made plastone blocks using granite and ceramic waste, along with plastic waste.
Each plastone block consumes 300 plastic carry bags and around six PET bottles.
Reader Interactions