India's contribution to plastic waste that is dumped into the world's oceans every year is a massive 60%. India generates around 56 lakh tonnes of plastic waste annually, where Delhi alone accounts for 9600 tonnes per day.
Out of this plastic bags constitute a major portion and sadly we end up using each for only a few minutes. When you think that plastic is made from non-renewable fossil fuels, it seems pretty crazy to be using such a valuable resource to make something that's only going to be used for such a short amount of time, and then thrown away.
A common argument – or even justification – for using these plastic bags is, Oh but I do recycle my plastic bags? I use them to line my rubbish bin. Thing is-that's not recycling. It's barely even re-using.
It's still sending them to a  landfill, just with other rubbish inside.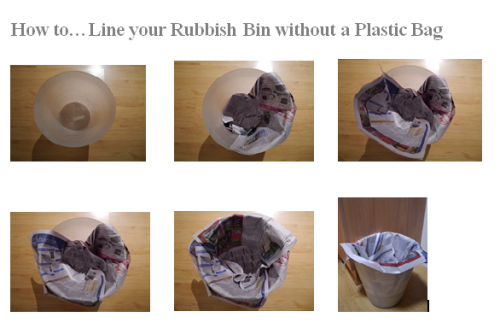 When the bin is nearly full you simply roll over the tops to make a parcel and dump it in your outdoor rubbish bin. The great thing is that newspaper is usually made from recycled paper ,so has already had a previous life (or several lives) before you send it off to landfill.
What are you waiting for ?
In case you are a lazy bum and want someone to make these newspaper bin liners for you , we have a solution for you too …..greenBUG bags !
Reader Interactions